Open for business: Massage to Health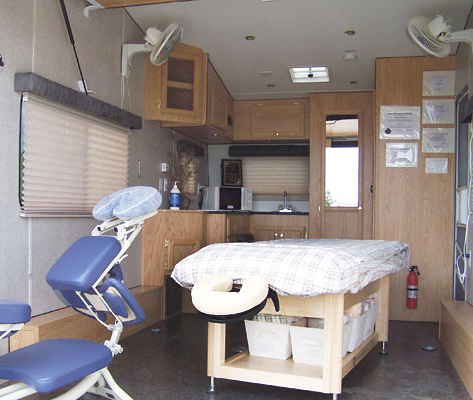 Roberta Adams has launched a mobile massage business. Above, it is equipped with a massage table and chair. Below, the back tilts down so clients in wheelchairs can have access.
Friday, October 24, 2008
By MIKE TRELEVEN
Register Business Editor
Getting a massage at home is not unusual. However, having a fully equipped treatment room drive up and park near your front door waiting for you — does warrant a second glance.
Certified massage therapist Roberta Adams launched her mobile massage business about four months ago — and has been on the move up and down the Napa Valley. The bulk of her clients however, are in the Napa area. The 16-foot-long trailer is equipped with a massage table that can be raised and lowered along with a massage chair. "I don't know of any other unit like this," said Adams. "Anything you could do at a spa we can basically do."
Don't worry about Massage to Health crowding your space at home or work. "You don't have to make space for me. I just drive up and you walk out," Adams said of her mobile massage business. "I just want to make it easy for people."
The trailer is also wheelchair accessible — the back tilts down as a ramp for easy access. The unit on wheels is self contained and has its own generator. Some of her clients include businesses, which have hired Adams to park her mobile massage trailer at their corporate sites so employees —at their convenience — could come out for a therapeutic massage. There is no need to clear a conference room or empty office for a massage table and chair.
Adams began her massage business visiting clients at home — lugging around a portable table. With the trailer, clients don't have to make room when she visits. This can be a problem for elderly clients or for people who have downsized into smaller homes.
She offers a variety of techniques ranging from Swedish, injury, sports, deep tissue and geriatric massage.
Adams preaches the benefits of massage. "It can make such a difference in people's lives."
Adams claims massage reducing stress levels, lowering blood pressure and improving a person's immune system.
"I want to get people involved (in massage benefits) and I want them to see what a difference it can make in their lives," Adams said.
For 25 years, Adams worked in the elder care industry, before transitioning into massage about four years ago. She said she is certified in geriatric massage and has attended The Day Break Geriatric Institute's program, which deals specifically with geriatric massage techniques. The business entrepreneur also attended the Napa Valley School of Massage.
Geriatric massage is one of Adams's specialties. She cites a list of benefits ranging from increased blood circulation, improved balance and flexibility.
For home visits there is a one-hour minimum and there is a fuel surcharge for businesses outside the Napa area.
Massage to Health
Roberta Adams C.M.T.
Certified Massage Therapist
www.massagetohealth.net
e-mail: roberta@massagetohealth.net
phone: 972-0189