Click here to download new client information form

We offer a mobile massage therapy treatment room, brought to your home, office or event.
Whether we come to your workplace -
for corporate massage or your home,
you need to do nothing other than
take a few steps outside your door
into our mobile treatment room
and just relax.
Relax.
You don't have to make time to drive
to someones office or to give up
that wonderful relaxed feeling to drive home.
MOBILE MASSAGE THERAPY TREATMENT ROOM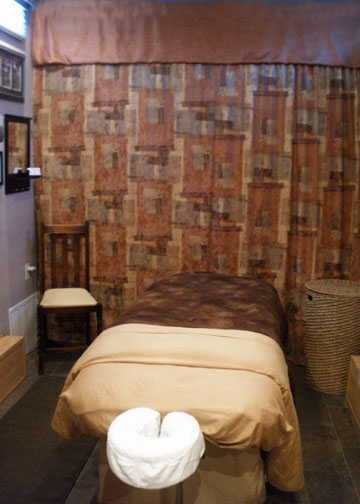 We offer:

*SWEDISH
*DEEP TISSUE
*SPORTS
*GERIATRIC
*TUINA
Tuina as taught at the Sports Medicine Hospital of
The National Olympic Training Center of China.
Prices:
90 Min. $200.00*
*Minimum 90 minutes per visit.

Corporate massage by price quote.
Call for a program set up specifically for your office.
Chair or table massage available for corporate massage.
Gift certificates available.
Visa, Master-card and Discover accepted
* Additional charge outside of Napa City. Please call for a quote.
For an appointment call 707-972-0189
or e-mail roberta@massagetohealth.net

Roberta Adams C.M.T.
Certified Massage Therapist